Tire Rotation Service near Ronkonkoma, NY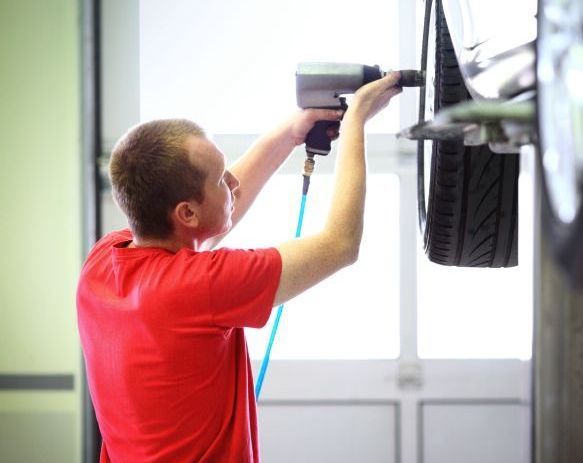 Service Hours
​631-354-4230
| | |
| --- | --- |
| Monday | 7:30 am - 8:00 pm |
| Tuesday | 7:30 am - 5:30 pm |
| Wednesday | 7:30 am - 5:30 pm |
| Thursday | 7:30 am - 5:30 pm |
| Friday | 7:30 am - 5:30 pm |
| Saturday | 7:30 am - 5:00 pm |
| Sunday | Closed |
Getting your tires replaced is a daunting task, but you can take preventative measures by extending the life of the ones you currently have with a tire rotation. Here at Generation Kia, our knowledgeable technicians focus on being meticulous and diligent, which will save you money and time in the long run. Make an appointment with us today by giving us a call at 631-354-4230!
Making your daily commutes can cause serious wear on your tires, and unfortunately, that wear does not happen evenly. Several factors, such as the type of the vehicle, road conditions, and your own driving habits can all cause uneven tire wear. For example, on front-wheel-drive rides, those front tires will tend to wear out much faster because they are receiving the brunt of the power and pressure. Of course, the best way to gauge when you need your tires rotated is to check your Owner's Manual. A good guideline is generally every 3,000-6,000 miles. In doing so, you won't be forced to replace each individual tire at a different time, something your bank account will surely appreciate.
Getting a tire rotation is easier than you think! In order to schedule an appointment from the comfort of your own home, simply navigate to the top of your screen and select the Service tab. Once you achieve that, select Schedule Appointment right below and you are well on your way to getting the whole process started! Of course, if you prefer, you can always just give us a call and one of our friendly staff members will have you all taken care of with an appointment. Once you stop in, we will remove all of your tires, get them inspected for their best placement, and put them back on and fill them with the appropriate amount of air. It's really that easy!
Of course, if you have any questions as to what goes into the rotation process, or simply want to know if you need one, you can use our Ask a Tech Form. With this, you are able to get in touch with one of our expert mechanics with any questions and concerns you may have. Just fill out the required fields and we will get back to you as soon as possible. If you are looking for a certain brand, we probably have it within our extensive Parts Department. If not, we have you covered! We will get it ordered and delivered here promptly for your convenience.
What's next? Come on down for our tire rotation service near Ronkonkoma, NY! We at Generation Kia will have you back on the road in no time with the peace of mind that you deserve! We are located at 4825 Sunrise Highway in Bohemia, NY, and look forward to helping you!
Testimonials
GOOGLE
September 21, 2017
GOOGLE
September 21, 2017
GOOGLE
September 18, 2017
GOOGLE
September 17, 2017
"Good experience "
DEALERRATER
September 13, 2017
GOOGLE
September 11, 2017
GOOGLE
September 8, 2017
GOOGLE
September 8, 2017
GOOGLE
August 31, 2017
GOOGLE
August 31, 2017
GOOGLE
August 31, 2017
GOOGLE
August 30, 2017
BING
August 30, 2017
Read More