When Should I Get My Tires Rotated?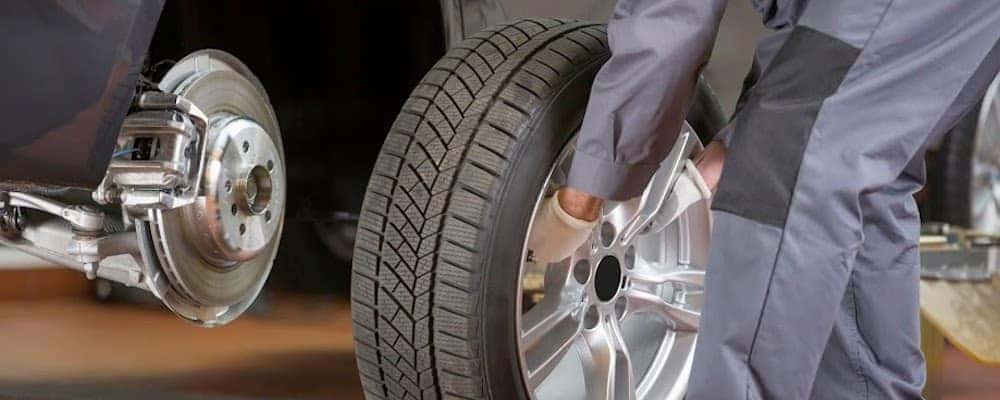 If you're looking for a tire shop where you can get your Kia tires rotated near Holbrook, the team at Generation Kia's tire shop in Bohemia, NY is here to help! In addition to our discount tire deals on Bridgestone tires and other top brands, the certified technicians in our Kia service department can help out with your tire rotation needs as well. Find out how often you should get your tires rotated, and then schedule tire service at our dealership near Patchogue.
When You Should Rotate Your Tires
Keep your new tires looking and performing like new for longer by getting regular tire rotations. In general, most tires are recommended for a tire rotation every 5,000 to 7,500 miles, though this can vary based on the make and quality of the tires, as well as the type of drivetrain you have.
FWD Tire Rotations – On front-wheel drive cars, the front wheels wear down more quickly, because that's where the power is sent. In order to rotate these tires correctly, move the front wheels to the back on the same side, and move the rear wheels to the front on opposite sides.
RWD Tire Rotations – While rear-wheel drive cars provide more even tread wear, it's still recommended that your rotate them. Rear tires go to the front and stay on the same side, while front wheels go to the back and switch sides.
AWD/4WD Rotations – All-wheel drive and four-wheel drive cars need to be rotated the most because of the way the drivetrain is structured. In order to rotate tires on AWD and 4WD models, follow the same steps as the RWD tire rotation.
Why Tire Rotations Are Important
Rotating your tires is an important aspect of vehicle maintenance which can help extend the life of your tires and improve the performance of your vehicle on the road. When you get your tires rotated you help to:
Ensure that your tire tread is wearing evenly.
Attain better handling on the road.
Keep your tire warranty valid.
Find Discount Tire Rotations and New Tires on Long Island
If you're looking for tire coupons near Holbrook then check out our parts specials at Generation Kia. What about discount tire rotations? Check out the service specials we've got going on right now at our dealership, located at 4825 Sunrise Highway in Bohemia, NY. And if you have any questions about getting your Kia tires rotated, need more service tips, or want to about opportunities for community involvement, feel free to contact us at (631) 569-5700.